Feb 17 | Weekly Climate Review & Weather Forecast
Our mild winter persisted for another week, with average temperatures from the mid-30s in northern Illinois to the mid-40s in southern Illinois, 10 to 15 degrees above normal. We have witnessed a top 10 warmest start to the calendar year on record in virtually every long running station in Illinois, including the 6th warmest on record in Peoria, 3rd warmest in Quincy, and 2nd warmest in Paducah, Kentucky.  
We had a wetter week across the state, especially in southern Illinois. 7-day totals ranged from just under half an inch in eastern Illinois to nearly 3 inches in far southern Illinois. Parts of Hamilton, Union, and Johnson Counties have picked up 4 to 5 inches of rainfall since the beginning of the month, about twice the 30-year normal for the entirety of February. Meanwhile, most of central and northern Illinois caught a glimpse of a rare snowfall this week, with 7-day accumulation between 1 and 6 inches near the Wisconsin line. Still, all areas north of I-64 are running a 5-to-12-inch snowfall deficit for the season. However, the lack of snowfall this winter does not mean we've been dry. Following a very dry fall season, most of the state has been 1 to 6 inches wetter than normal since the start of the new year, while only east-central and parts of western Illinois have been slightly drier than normal.
Our mild pattern looks to continue for at least a few more days, with highs in the upper 40s to low 60s through late next week. However, a potential weather change is on the horizon, with 8 to 14 day outlooks showing higher chances of temperatures that are closer to normal for late February, which is more like highs in the 20s and 30s. Meanwhile, all outlooks from the 8 to 14 day, through the month of March, through the March-May spring outlook are leaning to likely wetter than normal for the state, with the highest chances of wetter than normal conditions in southern Illinois. If we do see our active weather pattern continue through this and next month, it will increase the risk of excess wet soil issues as we move into spring. This risk is larger in southern Illinois where soils are already very wet from the last few weeks of storms.
---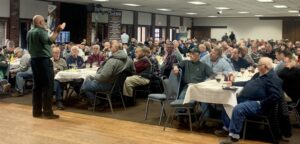 All Day Ag Outlook

The farmdoc Team, WILLAg.org, and University of Illinois Extension are proud to present the All Day Ag Outlook. This meeting has been an annual tradition in the month of March at the Beef House in Covington, Indiana since 1991.

This year's program is scheduled for Tuesday, March 7, 2023. The doors open at 7:30 a.m. central / 8:30 a.m. eastern and includes both coffee and rolls in the morning and a Beef House lunch.

Registration for 2023 is $30 per person. Media and Extension personnel may register for free.

—

REGISTER ONLINE TODAY
https://go.illinois.edu/AllDayAgOutlook

—

Doors Open at 7:30 am central, 8:30 am eastern
Coffee and Beef House Cinnamon Rolls

A G E N D A

Morning Session
– Growing Regions Weather with Eric Snodgrass
– farmdoc | Crop Insurance & Budgets with Gary Schnitkey
– farmdoc | The Illinois FBFM with Bob Rhea
– WILLAg Soybean Panel with Ellen Dearden, Chip Nellinger, Merrill Crowley, Dave Chatterton, Chuck Shelby

A BEEF HOUSE LUNCH

Afternoon Session
– farmdoc | Farm Bill at the Starting Line with Nick Paulson & Jonathan Coppess
– farmdoc | Land Markets in the Rearview & the Windshield with Bruce Sherrick
– Food, Fuel, Fiber, & Infrastructure with Mark Chaney, John Deere
– WILLAg Corn Panel with Matt Bennett, Curt Kimmel, Wayne Nelson, Mike Zuzolo, Greg Johnson
– farmdoc | Price Outlook & Renewable Diesel with Joe Janzen & Scott Irwin

/** * header here */ ?> /** * header here */ ?> /** * header here */ ?>