New mapping system to monitor corn rusts
This season we will be using a new system to monitor and  track southern rust in Illinois #corn.  We will be operating and managing a site that clientele can access and view in real time.  I will provide information pertaining to the site once it is operational in a few days.
Why do we need to monitor rusts?  Because rusts are obligate fungal pathogens.  This means they need a living, green host to grow and reproduce.  Rusts do not survive our Illinois winters and instead overwinter in warmer southern locations.  Once temperatures increase, spores from the south are blown north.  Corn planted in the United states can then be infected as the pathogen infects new corn, produces more spores, and moves on air currents to new areas and fields.  Therefore, by tracking rusts we can determine if and when fields may be at risk.  This information can help make timely fungicide applications or avoid unneeded applications.   This process takes time and often rusts do not reach our corn until later in the season, once yield has been made.  However, due to our late planting throughout the state we may see these rusts infect plants at earlier stages in growth and development, which may result in greater potential yield impact if disease occurs.  This is why scouting your corn this year will be especially important.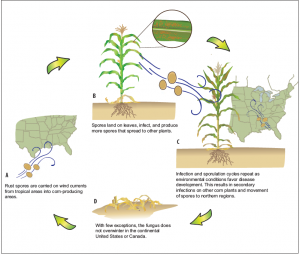 In the meantime, any growers, consultants, ag professionals in Illinois that observe rust on corn should send a picture to myself at nathank@illinois.edu OR tweet a picture to me @ILplantdoc and @corndisease with #southernrust hashtag.  Southern rust, common rust, and other diseases may not be easily identified by images, and may require expert analyses.  Samples of corn rust can be sent to the UIUC Plant Diagnostic clinic– instructions found HERE.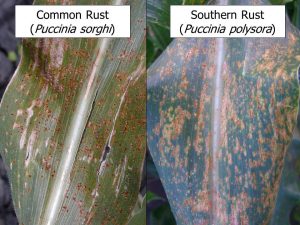 /** * header here */ ?> /** * header here */ ?> /** * header here */ ?>