Illinois Crop Update – August 11, 2023
Kathryn Seebruck – Extension Commercial Ag Educator
Winnebago County
Soil Conditions: Mildly Wet (soil is wetter than normal, local vegetation is healthy)
In soybeans, some feeding by Japanese beetles was found closer to field edges, in addition to both minor and advanced spider mite damage (each in different fields). With the recent rainfall and more moderate temperatures, continued damage isn't expected but will be monitored. In corn, some western corn rootworm beetles were found but in low numbers and with minimal damage. Slightly higher numbers were observed in continuous corn. Little to no disease pressure was observed in visited fields. Corn is at R1-R2 and soybeans are at R4-R5.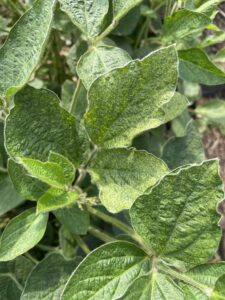 Figure 1: Spider mite damage in soybeans.
Figure 2: Minor stippling in soybeans from spider mites.
Russ Higgins – Extension Commercial Ag Educator
Grundy County
Soil Conditions: Mildly Dry (soil is drier than normal, plant growth may have slowed)
Hit or miss on rainfall for areas in NE Illinois this past week. Enough precipitation to keep the crops going, but few if any tile lines are running. Overall disease pressure continues to be low in both corn and soy fields I have visited, including those that did not receive a fungicide treatment. To date, very low insect pressure has been found in either crop.  Not surprising, I'm noting common smut on corn field edges damaged by deer feeding. Most of the area's corn crop is currently at R4 or the dough stage. The starch in the kernel, initially a liquid, is converting to a more solid or pasty consistency. Cool sunny days are favorable for an extended R4 stage. Much of the soybean crop is at R4 or full pod.
Figure 3: Corn smut. Grundy County, August 10, 2023.
Figure 4: R4 soybean. Grundy County, August 10, 2023.
Doug Gucker – Extension Local Food Systems and Small Farms Educator
Macon County
Soil Conditions: Mildly Wet (soil is wetter than normal, local vegetation is healthy)
Here in my 3-county area (DeWitt, Macon & Piatt), soybeans for the most part are in mid R5 or "Beginning Seed" stage. Corn planted in the first half of April is late R4 (Dough) or early R5 (Dent) stage. Corn planted at the end of May is R3 (Milk) stage. The past two weeks has brought above normal rainfall to this region and no longer in "Moderate Drought". Leaf diseases are at a minimum in both corn and soybean fields.
Figure 5: Leaf diseases at a minimum in area corn and soybean fields.
Talon Becker – Extension Commercial Agriculture Educator
Champaign County
Soil Conditions: Moderately Wet (soil is damp, standing water may be present in low areas, water bodies are full)
Soils in southwestern Champaign County are now well saturated following several rainy days since last weekend.  The Midwestern Regional Climate Center estimates 2.5″ to 4″ across the county, although the true range may be slightly larger.  A few corn fields in the area are still showing a good amount of goose necking from high winds earlier in the season and may present harvest challenges if not harvested before stalks loose too much of their integrity.  Several corn fields also showed a fairly high level of ear to ear size variability within small areas of the field.  Corn in the fields I visited were at early R4 (dough) to early R5 (dent).  Soybean fields are well into R5 (beginning seed) with some fields closer to R6 (full seed).  There are also some new pods starting to form following the return of soil moisture.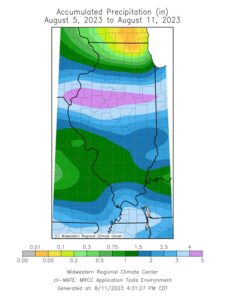 Figure 6: Estimated accumulated precipitation – Aug. 5 – Aug. 11.
Figure 7: Variable ear size seen in several fields – Champaign Co., Aug. 11, 2023.

/** * header here */ ?> /** * header here */ ?> /** * header here */ ?>