Screening Waterhemp for Herbicide Resistance
Herbicide-resistant waterhemp populations continue to expand into more areas of Illinois each season.  Waterhemp has evolved resistance to herbicides encompassing more mechanisms of action than any other Illinois weed species, including resistance to inhibitors of acetolactate synthase (ALS), photosystem II (PSII), protoporphyrinogen oxidase (PPO), enolpyruvyl shikimate-3-phosphate synthase (EPSPS) and hydroxyphenyl pyruvate dioxygenase (HPPD).  Not every individual waterhemp plant is resistant to one or more herbicides, but the majority of field-level waterhemp populations contain one or more types of herbicide resistance.  Perhaps even more daunting is the occurrence of multiple herbicide resistances within individual plants and/or fields.
Since 2010, the Illinois Soybean Association has provided funding to screen waterhemp samples for herbicide resistance.  During the first three years of screening, approximately 1000 samples were submitted; in 2013 alone over 1200 samples were submitted.  These samples have allowed us to monitor the spread of herbicide resistance (and in particular glyphosate resistance) across Illinois (Figure 1).  One point of particular interest in 2013 was that the vast majority of samples were submitted from counties north of Champaign County.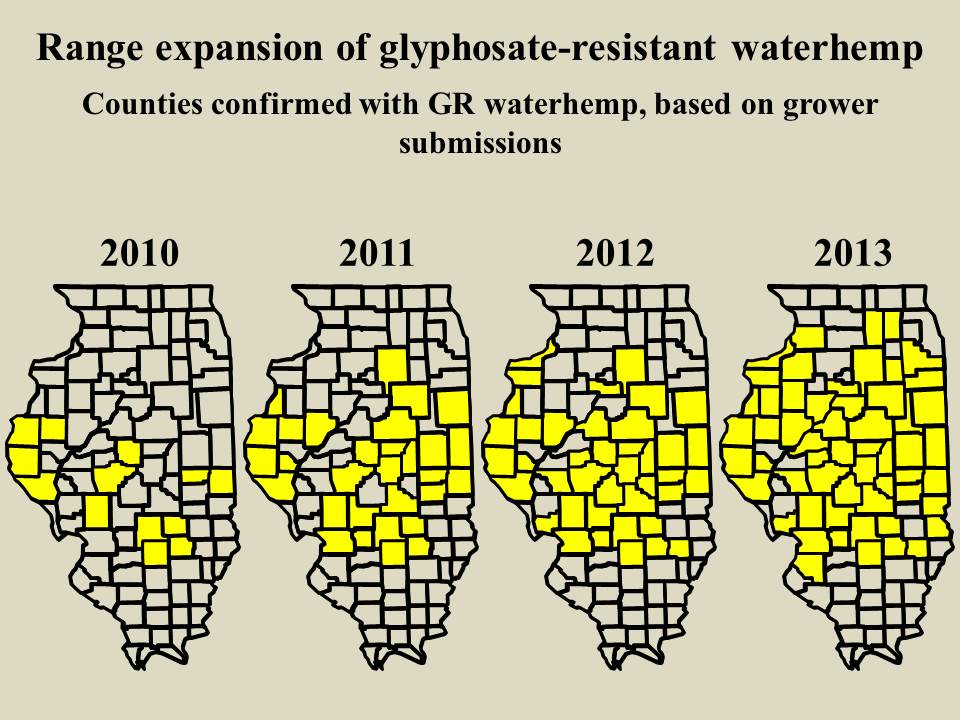 We are pleased to announce that, with continued financial support from the Illinois Soybean Association and Pioneer, we are offering free screening for herbicide resistance in waterhemp during the 2014 growing season.  There is no fee for this service, but please understand that we cannot guarantee when results will be available. Also, because of the way in which we conduct our resistance tests, a test result of "sensitive" to glyphosate does not rule out the possibility that the plant actually is resistant, but by a mechanism that is different than for what we are testing. We would like to assure everyone that we will respect the privacy of those sending samples: we will not make the exact location of any samples, or names associated with samples, available to anyone without your permission. The sample submission form, including submission instructions, is available as a downloadable file. If you have any questions, feel free to contact Pat Tranel (217-333-1531; tranel@illinois.edu).

/** * header here */ ?> /** * header here */ ?> /** * header here */ ?>