CropFlix 2021- Illinois's Virtual Crop Management Conference- Launches February 1
I received a notification on my phone this past Wednesday letting me know that it was the date of the Crop Management Conference in Macomb- the location I was going to be in charge of for the 2021 series of meetings. At some point last year, I put that date in my phone, optimistic about the chances of having face-to-face meetings during the winter of 2021. Sadly, as 2020 marched on, my optimism for 2021 marched away. By August, I knew that we needed to start laying the groundwork for a virtual Crop Management Conference for 2021, assuming that the risk of people gathering would remain too great come January.
Well, here it is. I present to you, CropFlix, our virtual Crop Management Conference for 2021. I posted about this a handful of weeks ago, but we are just days from the launch of CropFlix, and I am so excited to share with you more details and resources to help you understand what we are offering with CropFlix.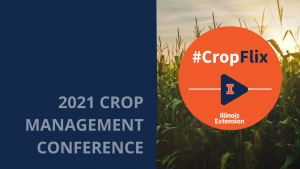 The CropFlix content is available starting February 1. Registration is and has been open and will also continue to be open through February. However, access to the package deal ends on February 28 at midnight. We have over 10 CEU's total to offer with CropFlix, and registration costs just $50. That's a great deal! Here is an episode guide that participants can use to track the episodes they watch as they go. https://go.illinois.edu/CropFlixEpisodeGuide
Along with registration, CropFlix viewers will have exclusive access to two virtual town hall sessions with our content creators/experts. These virtual town hall sessions will provide viewers with direct-access to ask questions that they might have after watching episodes. Questions can be asked in two ways: 1. through the CropFlix homepage on Learn @ Illinois Extension, or 2. ask directly during the session. We hope that these virtual town hall sessions are a great way to ensure that you can get all of your questions answered directly and share answers with participants who may have the same questions! Townhall sessions are scheduled for Tuesday, February 16 at 8 a.m. and Thursday, February 18 at 7 p.m. For more information on who will be available at the different sessions, check out the episode guide.
If you've been intrigued by CropFlix but hesitant to register because you're not sure how it will look- I have a treat for you. Here is a video tutorial to navigating CropFlix. The only account you'll need to sign up for is the Learn @ Illinois Extension account, and then everything is accessible to you wherever, whenever. This content is accessible only if you have registered for the program. For more information on registering, go to our CropFlix homepage: https://go.illinois.edu/CropFlix
If you would like to watch CropFlix content on your smartphone or tablet, we recommend navigating to Learn @ Extension via your web browser.
Getting updates on crop research and management issues affecting crop production from specialists in Illinois has never been so easy! Make sure you're registered for CropFlix! You won't want to miss out on this unique opportunity from Illinois Extension. For more information, follow go.illinois.edu/CropFlix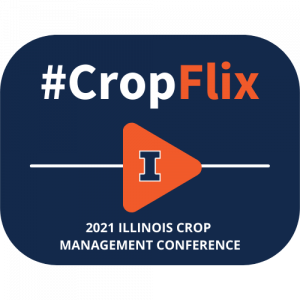 /** * header here */ ?> /** * header here */ ?> /** * header here */ ?>