Watch for early-season pests when crop development is slow
While cool temperatures are not necessarily "good" for pests (they need heat units to develop too), conditions that delay growth do leave the crop in a vulnerable stage for a longer period of time. Combined with the stress of wet, cool conditions, early season pests can reduce stands and result in replants.
Seedcorn maggot. We have been receiving reports of seedcorn maggot damage in soybean this year, driven by slow germination in many fields during the window of larval activity. This insect feeds on germinating seeds and developing cotyledons. Fields with decaying organic matter that were freshly tilled and planted during the window of adult activity are the most likely to be impacted. Many soybean fields were planted during the period of adult activity this spring, and low temperatures (like those we experienced in April when the larvae were developing) extend the time that germinating seeds and seedlings are vulnerable to damage by the larvae. (Surrounding states have observed this as well, as described in this article by my colleagues at Purdue: https://extension.entm.purdue.edu/newsletters/pestandcrop/article/seedcorn-maggots-damaging-early-planted-soybean/). Unfortunately, there are no rescue treatments available for this damage, and the only management, once seedcorn maggot damage has occurred, is to assess whether all or part of the field would benefit from a replant. The good news is that this period has passed for the first generation throughout Illinois and temperatures are beginning to warm, so fields planted from here on out are at a much lower risk from this particular pest.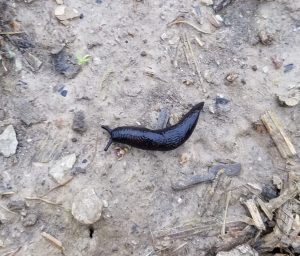 Slugs. Slugs thrive in a wet environment, and soil moisture has been a mixed bag in Illinois so far. However, areas with wet conditions, particularly in long-term no- or reduced-tillage fields should be on the lookout for slug damage. Like with seedcorn maggot and many other early-season pests, cool temperatures often make the problem worse by leaving the plants in a vulnerable stage for a longer time. While residue and other factors may increase slug populations, moisture really drives the slug situation; in many cases, the best tactic for managing a field with an established slug population is to wait for warmer and drier planting conditions. There are some bait products available specifically for slug control (insecticides are generally not effective for these mollusks), but note that products containing metaldehyde are only labeled for use in corn in Illinois, not in soybean.
Black cutworm. Moth flights have been sporadic in Illinois this year, but traps that have seen significant flights indicate larvae are likely to reach cutting size by around the last week of May in southern Illinois and the first week of June in central IL. (You can follow Kelly Estes on Twitter [@ILPestSurvey] to get updates on cutworm moth activity and cutting dates in specific areas). Now is a good time to check fields for feeding damage and cutworm larvae; in particular, check fields where control of winter annuals was either poor or burndown occurred close to crop emergence, as this vegetation attracts the egg-laying moths. As an economic threshold, around 3% of plants cut or wilting from black cutworm damage with larvae still present in the field should trigger an insecticide application.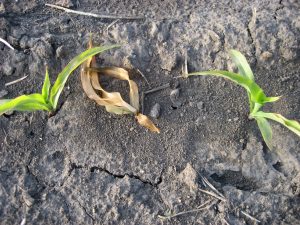 Of course, insects are not the only stand issue when conditions are cool; be sure to rule out freeze damage and simple delayed emergence when assessing stands. I'll be pleased to see conditions warm up over the next week or so.

Contact: Nick Seiter, Field Crop Entomologist | nseiter@illinois.edu  | (812) 593-4317

/** * header here */ ?> /** * header here */ ?> /** * header here */ ?>