Southern rust in Illinois- it's complicated
This week we started picking up Southern rust in the southern Illinois.  Thusfar, reports indicate that disease severity is low.  However, the recent hurricane remnant and warm forecasts may mean that we may see the disease progress somewhat in the coming days and weeks.
When people in Illinois hear the words southern rust, it brings back memories of a few years ago when the disease moved in and environmental conditions favored disease development for a prolonged period of time.  Many fields suffered losses as a result of the disease.  This year the situation is complicated and different from a few years ago.  First, we are dealing with extreme differences in planting dates throughout the state.  One field may have tasseled a week or two ago and the field across the road might just now be reaching V10.  Second, yield potential in late planted fields is likely to be substantially lower than typical, meaning that there is less yield to protect and less money to cover potential application costs.  Third, commodity prices, although they may have increased slightly in recent days, are low, making it hard to justify the cost of applying a fungicide unless necessary and the potential to recover costs is high.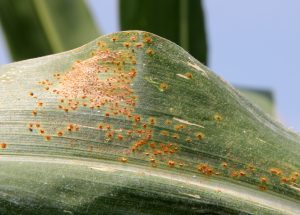 Southern rust.  Image A. Sisson.
Let's take a minute and first go over southern rust, then move back into what factors you should consider before making a fungicide application to manage this disease in 2019.
Southern rust is caused by the obligate fungal pathogen Puccinia polysora.  Puccinia polysora produces fuzzy, raised structures called pustules on leaves and stalks of corn.  Pustules contain thousands of small orange spores.  When you rub these pustules between your fingers, the spores may leave a dusty orange coat on your fingers, hence the reason it is called a "rust."  Pustules of Southern rust are orange to light tan, and often small and circular.  Pustules are mostly found on the upper leaf surface, which can help distinguish it from the less damaging common rust.
Spores from pustules can be dispersed miles on air currents, allowing the disease to spread rapidly.  Under hot humid conditions, spores of the fungus can infect suceptible corn, and symptoms can be observed within 3-4 days.  Within 7-10 days, spores are produced and can be dispersed.  The cycle of spore-infect-spore can continue as long as conditions are conducive and corn plants are green.  Conditions that favor disease development include hot temperatures (morning low of 75°F and daytime high of 93°F) and at least 4 hr of consecutive leaf wetness.  Outside of these conditions disease progress can occur, but at a slower rate.  Our colleagues to the South state that Southern rust can continue chugging along at 110 degrees.  That's pretty impressive.
Southern rust does not overwinter in Illinois and blows into the region from warmer regions.  In years where it develops to a significant degree early in southern regions, it can move into Illinois during critical stages in crop growth.  In general, we see the disease move in most years in late July or early August.  This means that in years when plantings are delayed, the disease can arrive on time but plants may be at greater risk for yield loss because the earlier  infections occur the more yield can be impacted.  Experience from our Southern colleagues indicates that stalk integrity isn't likely to be affected unless you see significant infections during the vegetative stages of crop development.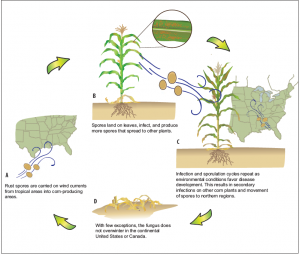 Now that we are on the same page about this disease, what about management?  As I mentioned previously things this season are complicated.  Let's start by considering management decisions.  Below is a table modeled after one produced by fellow plant pathologist and Jason Statham look-alike Travis Faske at the University of Arkansas, depicting the likelihood that a fungicide application for Southern rust will provide a benefit:
| | | | |
| --- | --- | --- | --- |
| Growth Stage | Southern rust present | Forecast favors S rust (75-93F) min 4 hrs leaf wetness | Benefit of fungicide? |
| Vegetative | yes | yes | yes |
| VT/R1 | yes | yes | yes |
| R3 | yes | yes | yes |
| R4 | yes | yes | Unlikely |
| R5 | yes | yes | No |
| Maturity | yes | yes | No |
Experience from the South indicates that trying to hold off an application until VT/R1 if possible is going to give you the highest likelihood of coming out even or ahead of this disease.  If you apply during the vegetative stages, realize that that means that you might need to come back again and make a second application.  You now have likely doubled your application costs.

Now let's consider some other aspects of controlling this disease in our late planted crops.  If you were unable to switch to a shorter day hybrid, and decide apply a fungicide for managing S. rust at say, R3, your plant will be protected from disease, and retain greenness later into the season.  Depending on your location in the state, this means you might need to consider frost, and what that means for your yield potential and crop harvestability.

Before making an application, consider these points and also run the numbers.  Remember that fungicides DO NOT INCREASE YIELD POTENTIAL.  They do not increase yield.  They protect potential yield by mitigating losses due to fungal disease.

That being said, you can calculate the amount of protected yield required to pay for a fungicide application by using the formula Yield protected (bu/A) = application cost ($/A) / crop price ($/bu).  After calculating your required protected yield, you can then determine if potential yield, frost, and other factors will make it worthwhile to spray.

Continue to scout.  For updates on Southern rust and it's presence in Illinois and surrounding states click here

/** * header here */ ?> /** * header here */ ?> /** * header here */ ?>