2023 Illinois Farm Economics Summit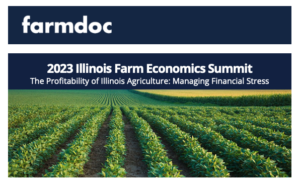 Welcome to IFES 2023.  That's right.  The Illinois Farm Economics Summit has moved to January.
The members of the farmdoc team from the Department of Agricultural and Consumer Economics and University of Illinois Extension will be holding a series of three Illinois Farm Economics Summit meetings to help producers understand the past year and plan for the next.
Join us for a long waited return to in person IFES meetings!
Registration
Registration is $80 online, $85 mail-in, and $90 walk-in.  This fee includes all meeting materials, break refreshments, and lunch.
For registration questions contact Nancy Simpson. 217-244-9687 (8am to 4pm CST) or nsimp1@illinois.edu.
The preregistration deadline is January 3rd, 2023.
Dates & Locations
Tuesday, January 10 – Mt. Vernon  DoubleTree
Wednesday, January 11 – East Peoria  Par-a-dice
Thursday, January 12 – Dekalb  Faranda's
Program

7:45 – Registration and Coffee

8:20 – Introduction and Overview
8:30 – Grain Market Outlook for 2023
9:00 – South America: Expectations for Agricultural Production, Markets, and Trade
9:30 – Enterprise Budgets and Farm Income Outlooks for 2023

10:00 – Break

10:30 – Farm Bill Update
11:00 – Farmland Price and Interest Rate Outlook
11:30 – Question & Answer / Wrap-Up

12:00 – 1:00 Lunch (Included)

/** * header here */ ?> /** * header here */ ?> /** * header here */ ?>